PETCUBE VS. FURBO
Posted by Chelsea Hill on
As a dog owner I worry about leaving my fur babies alone. I'm sure just as most of you do. Whether you work full-time or just have to run errands. Chances are, your dog is alone. A lot. This can be very stressful to you and your dog. After all, we crave the company of our loyal companions, and they miss us when we're gone.
It's not necessary to have a dog camera, but let me tell you, it alleviates some of the discomforts I feel when leaving my girls at home alone for long periods of time. I can see what they do while I'm away. Plus I love being able to talk to them and give them treats. Even though they can't see me.
Like me, a lot of pet owners I have spoken to admit that the camera isn't even for their dog…it's for them. They feel guilty leaving, and it makes them feel like a better if they have constant contact with their dogs while they're away. 
Setting our feelings aside, pet anxiety is very common, especially among animals who have been abused or neglected. When their human leaves, they panic at the thought that it could be for good this time. Dogs don't have the same concept of time that humans do, and it's hard on them not knowing when you will return. Ever return home only to find the garbage dumped over, shredded pillows, or even your favorite shoes chewed? I know I have, my girls act like I'm never coming back. Well that and they were just simply bored, "bored dog can be a naughty dog"
But if you can check in periodically, reward them for good behavior, and they can hear your voice, they may not feel so alone.
So let me just get right to the review of the top two dog cameras on the market today. I will go over why they stand out and discuss how they may benefit you and your pet.
Criteria
We're going to go over the quality, how user friendly, and available features of both Petcube and Furbo dog cameras. Both of these products give you the ability to see your pet throughout the day when you're not at home. You can capture video and see them via the live feed on your computer, smartphone, or tablet.
They both have a free app you can download, making it easy to access anytime. Connect the camera to the Wi-Fi in your home, plug them in, and download the free app. You're up and running in no time.
Both of these cameras also feature night vision, so you don't need to worry about leaving them alone at night. Even better, you can share pictures directly to social media. Now saving the best for last…they're equipped with a two-way microphone, so not only can you speak to them, but you can hear them as well.
Just when you thought that was all, there's one more thing. Both cameras give bark alerts, so when your dog makes an unusual commotion, you get notified and can check in right away, even if you're not actively listening. Finally you get to receive texts from your dog! 
Cat owners, don't feel left out! These cameras are also great for checking in on your feline friend throughout the day, although Sir Winston probably prefers I stay away so he can walk all over the counters and get into the butter dish. Yikes. You better get one of these, too.
Petcube Play Pet Camera
The Petcube Play is a three-inch cube. It's considerably smaller than any other pet camera on the market, so it fits in nicely with any space you have. If you live in an apartment or keep your pet in a smaller area while you're gone, this is an excellent option for you.
The Petcube Play streams 1080p HD video, which the Furbo doesn't do, so you get a cleaner video of your dog, and the feed is not delayed enough for the human eye to tell. There's also a wide-angle option that gives you a 138-degree view.
You can record messages with the Petcube Play and listen to what's happening in your house while you're gone. Set up noise and motion alerts from the app for added security and comfort.
While some pet cameras have treat dispensers, the Petcube Play mixes it up with a laser toy. See, I told you these are great for cats as well. The laser is safe for pets and humans, and it gives you a unique way to interact with your pet when you're apart. They get exercise, and you get a good laugh.
The Petcube Play is a nifty option for households with multiple pets. You can also change out the laser toy version of the Petcube with their treat dispensing camera, depending on your specific needs.
A unique feature included in the Petcube Play is the ability to play with other people's pets. Seriously. You can use the app to find other users' pets, and play with them, too! While Fido is napping, check the feed for other people who have made their video public, and play laser games with their animals.
You can choose whether to make your video public or private, and it's entirely up to you, but finding public cameras is a great way to interact with different types of animals and learn more about how others care for their pets. You might even find the next breed of dog you want to adopt!
Speaking of adopting a pet, many shelters use Petcube devices and make their feeds public so that the pets awaiting their forever homes can have some fun when staff and time are limited. It's a great way to give the animals attention and of course, pull on your heart strings just a little bit. I think they do that on purpose. They have you all figured out.
Once you find other pets you love, you can save cameras to your favorites list, so you can access them more easily the next time you open the app.
The only downside to the laser toy is that it points straight across the room. You can't angle it to the floor, and you certainly don't want to risk your pet scratching the wall. To place it at an angle, you have to position the entire device on a high shelf, facing downward.
Furbo Automatic Treat Dispensing Dog Camera
With the Furbo, you can also record messages and hear what's going on at home with the two-way microphone. Set up notifications via the app to receive alerts when your dog barks or makes a lot of noise.
Along with recorded messages, you can play a personalized treat dispensing sound, to prep your pup for the impending arrival of yummy things. Your pet would grow accustomed to the default noise signaling a treat, but the customization of this noise is a nice touch.
The Furbo holds quite a few treats, so you don't need to refill it very often. The top is easily removed to access treat storage, and you don't have to take the entire front off of it as you do with some other cameras.
The Furbo is attractive and blends in with your home decor well. You don't need to mount it on the wall like so many other products. It sits nicely on a shelf and looks clean and stylish. No bright stickers or ugly designs here.
In fact, the top of the device is made from natural bamboo. It's elegant and attractive. It also has a rubber seal; keeping treats fresh instead of going stale. The Furbo manufacturer specifies round treats, 0.4 inches in diameter, so you may be somewhat limited on the treats you can give to your pet via the dispenser, but some users say they were able to make it work by breaking up treats into smaller pieces.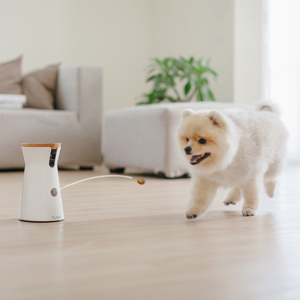 You can place the Furbo anywhere you want, but it is larger than the Petcube Play, so it doesn't lend itself well to smaller spaces or tight shelves. There is a piece of double-sided tape on the bottom to keep the device safe from curious paws.
The Furbo app is one of the easiest to navigate, the video quality is excellent, and the sleek design outdoes the competition. With treat dispensing capability and easy access to treat storage, the Furbo tops many users' lists for the best dog camera on the market today.
Salto de página
Comparison Chart
 

Petcube Play

 

Furbo

 

Free app

 

X

 

X

 

Laser toy

 

X

 

 

Treat dispenser

 

 

X

 

2-way microphone

 

X

 

X

 

Picture taking ability

 

X

 

X

 

Interaction with other pets

 

X

 

 

Night vision

 

X

 

X

 

Social media sharing

 

X

 

X

 
The Take Away
If you are plagued by the stress of leaving your pet home alone all day, or if you can't bear to be apart for a jaunt to the grocery store, one of these pet cameras may do the trick. They offer cool features, and you get to decide what is most important to you.
Both the toy and the treat dispensing options are easy and convenient, not to mention a lot of fun. Once your pet familiarizes himself with the treat-giving doohickey in the corner, you will probably have a lot of fantastic nose close-ups. Can we say SELFIE!!
The two-way microphone is unbeatable for pets who take comfort in the sound of their owner's voice, and for those who like to get notifications when their dog barks. It eases some of the anxiety of separation.
Night vision is excellent if you tend to leave your pets alone at night, and social media sharing is a plus, but many pet owners don't find either of these features necessary. They're just nice to have. The size of the Petcube Play is convenient, but aesthetically, the Furbo is more appealing.
The primary difference in these two cameras as dispensing versus laser toy capability. However, the interaction with other pets is probably the most unique feature of any pet camera on the market today, so if you're sold on that, the Petcube Play is the way to go.
Both of these cameras offer high-quality video and everything else you need to monitor your pet's activity. You can't go wrong with either, and you get to decide which is best for you based on some of the additional features you may not find anywhere else!
---
Share this post
---
---
---
0 comment